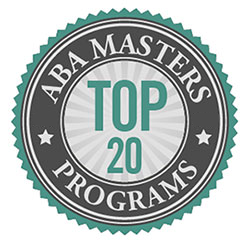 A master's degree and the BACB's Board Certified Behavior Analyst (BCBA) designation are the standard credentials for working as a full-authority independent ABA in the field of behavior analysis.
A qualifying master's and certification in ABA is …
An absolute requirement for licensure in many states…
Acceptable in other states as a pathway to becoming licensed…
Something many employers expect to see on a resume…
Often a required credential for insurance reimbursement under autism insurance mandate laws…
To qualify for BCBA certification, you'll need to earn a master's degree in behavior analysis, education, or psychology, but if your program doesn't include BACB's required course content, you'll find yourself scrambling to complete the course sequence in a separate program after earning your degree.
Learn the most effective ABA intervention strategies from experts in the field. The degree tracks listed here include bachelors, Master's, postbaccalaureate, and graduate certificate programs designed to equip you with the knowledge and skills to practice ABA therapy techniques. Find out more about each program and pave your way into a meaningful ABA career today.
<!- mfunc feat_school ->
<!- /mfunc search_box_body ->
So the question then becomes: How do I find a qualifying master's degree in applied behavior analysis that has the required courses already built in?
Choosing a graduate program that has been accredited by the Behavior Analysis Accreditation Board of ABAI is undoubtedly the most streamlined path to BCBA certification– and to starting your career as an ABA. Why? Because all of these programs consist of the coursework you're required to complete before being eligible to take the certification exam. Choose any program on this list and there's no worrying about meeting additional coursework and instructional hour requirements.
Still, we know there's a lot more to consider when selecting a program, so we've done some digging to find the information you need. We pored over university disclosure pages and sifted through data published in the National Center for Education Statistics database to find answers to the questions you're most likely to have:
How much will the program cost? … What degree majors do these schools offer – ABA, psychology, education? … What's required to get into the program? … How likely is it that I'll have some direct interactions with my professor? …
Top Master's Programs in ABA, Psychology and Education for Behavior Analysts
There are different ABA programs for people with different career paths. We know the best program for a student of psychology interested in practicing ABA isn't going to be the same for someone who wants to apply ABA principles in the classroom as a teacher.
To help you make an informed decision about which program is best for you, we identified the key features most important to prospective students, organized it, and presented it in a way that allows you to more easily compare your options.
We don't attempt to rank programs, so the schools shown here appear in no particular order.
---
This list features programs that our editorial staff hand selected to present as top recommendations. We believe the many aspects of a program that come together to create an exceptional student experience can't be reduced to numbers alone, so no formula was used to attempt to score or rank these programs. Instead, they represent our top picks based on a thoughtful review of the things we know mean the most to students. Each one of these programs offers something unique, and all come equally highly recommended. We stand behind the principal of editorial integrity and make these recommendations independently and without compensation.
---
ALABAMA
CALIFORNIA
FLORIDA
ILLINOIS
KANSAS
LOUISIANA
MARYLAND
MASSACHUSETTS
MICHIGAN
MINNESOTA
NEVADA
NEW JERSEY
NEW YORK
OHIO
TEXAS
OSLO, NORWAY
Note: Student-to-faculty ratios shown are institution-wide and not specific to the featured program. Tuition and related fees do not take into account any type of financial aid assistance you may qualify for, and books and related expenses are not included in the total. In instances where ABA was offered as a specialized track within another major, the institution provided the total number of graduates within that major.
<!- mfunc feat_school ->
All schools shown here have been contacted and informed of their inclusion on this list. Schools that do not wish to be featured are immediately removed. School names are the registered trademarks of their original owners. The use of any trade name or trademark does not imply any association with the school.