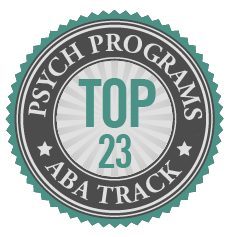 We've hunted, searched, studied, and scrutinized graduate schools throughout the U.S. in an effort to provide you with a complete list of the best master's degree programs in psychology with an applied behavior analysis (ABA) emphasis.
Whether you're preparing for BCBA certification and looking to earn a master's in psychology as your terminal degree, or if you're positioning yourself to earn a doctorate so you can become a licensed psychologist, concentrating your studies in applied behavior analysis opens the door to more options than virtually any other area of psychology.
Of course, you can always take the courses you need for BCBA certification as a stand-alone course sequence if you already have a master's degree or are currently enrolled in a master's program that doesn't include the right course content. But taking the right blend of ABA courses doesn't need to be an afterthought.
If you're fresh out of your bachelor's program or otherwise ready to make your move by earning a master's degree, why not just enroll in a program that already includes the courses you need and save yourself the extra trouble and expense?
<!- mfunc feat_school ->
<!- /mfunc search_box_body ->
You've come to the right place. Our list includes only master's degrees (MA, MS) in psychology that include an ABA track or concentration, and all include a Behavior Analyst Certification Board (BACB) Verified Course Sequence (VCS).
Earning a psychology degree through a program that has already had its ABA course sequence verified means you won't need to worry about whether you've met the course requirements required to take the BCBA Certification Exam.
To help you make an informed decision, we've done the work of finding the information you need and put it all in one place. We identified the features we know psychology graduate students need when researching options: tuition rates… delivery method (on-campus, online or hybrid)… student to faculty ratio… along with some key highlights of each program.
We carefully reviewed dozens of university disclosure pages and analyzed data published in the National Center for Education Statistics database, presenting our findings here to make it easy for you to compare programs.
So here it is – our pick for the 23 best psychology programs in the U.S. that offer an emphasis in applied behavior analysis.
Master's Degree Programs in Psychology with an Emphasis in ABA
---
This list features programs that our editorial staff hand selected to present as top recommendations. We believe the many aspects of a program that come together to create an exceptional student experience can't be reduced to numbers alone, so no formula was used to attempt to score or rank these programs. Instead, they represent our top picks based on a thoughtful review of the things we know mean the most to students. Each one of these programs offers something unique, and all come equally highly recommended. We stand behind the principal of editorial integrity and make these recommendations independently and without compensation.
---
ALABAMA
CALIFORNIA
FLORIDA
IOWA
LOUISIANA
MASSACHUSETTS
MICHIGAN
MISSISSIPPI
NEVADA
NEW JERSEY
NORTH CAROLINA
OKLAHOMA
PENNSYLVANIA
TEXAS
VIRGINIA
WISCONSIN
Note: Student-to-faculty ratios shown are institution-wide and not specific to the featured program. Tuition and related fees do not take into account any type of financial aid assistance you may qualify for, and books and related expenses are not included in the total.
All schools shown here have been contacted and informed of their inclusion on this list. Schools that do not wish to be featured are immediately removed. School names are the registered trademarks of their original owners. The use of any trade name or trademark does not imply any association with the school.
<!- mfunc feat_school ->