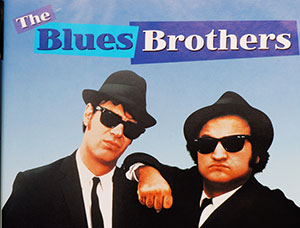 Do you watch American Idol as your favorite guilty pleasure and cheer along with the crowd when nobody's in the room? … Ever pop in the timeless 80's classics Ghostbusters or The Blues Brothers and start ranting about how 'they just don't make movies this good anymore?' … Do you own a DVD of Edward Scissorhands, Pee-Wee's Big Adventure, or The Nightmare Before Christmas? – um, er, for your kids, of course.
So– why are we quizzing you about prime-time TV, your kids' favorite DVDs, and the most defining movies from your childhood?… Well, these creative works actually all have something in common: From the masterful minds behind visionary cinematic creations to your favorite pop idol reality show finalist – some of the most talented, creative, inspirational and fascinating people in the arts (and sciences) fall on the autism spectrum.
ASD doesn't hold these creative geniuses back from realizing their potential. Far from it– it's the very nature of the disorder that may have actually contributed to their genius.
<!- mfunc feat_school ->
Featured Programs:
Sponsored School(s)
<!- /mfunc feat_school ->
Think of how amazing that is for just a second– a disorder often characterized by an inability to detect social queues and communicate normally with others could be the thing that helps inspire movies and songs that millions and millions of people relate to and that brings us all closer together. Now that's something.
These celebrities are role models for autistic individuals all over the world and inspirations for us all, often before we even know they are autistic. Who are some of these creative geniuses?
Whether you're an 80's kid or a millennial, you're sure to recognize at least a few of these icons of popular culture:
Temple Grandin

You've probably heard of Dr. Temple Grandin—this incredible woman has made a name for herself over the past decade as an author, speaker, and autism educator. She also works as a professor and animal behavior consultant who has contributed ideas that have changed the way livestock are managed and inspired new designs in the equipment that's used to contain them. And as if that wasn't enough, she has written "The Autistic Brain: Thinking Across the Spectrum" and appeared in an autobiographical documentary… oh yeah, and did a Ted Talk video that has been viewed millions of times… oh, and not to mention, Claire Danes played her in the 2010 feature film biopic about her life… How's that for a successful career?

Grandin didn't speak a word until she was three years old, and underwent speech therapy in order to facilitate normal language development. At age five, she was able to rejoin the mainstream education system.

There are books upon books published about autism, but very few offer the personal narrative that Grandin is able to provide. Grandin refers to autistic individuals as having "differently-abled brains" and advocates for the integration of autistic children in the classroom and in social settings, shaking off the idea that a one-size-fits-all educational program meets the needs of children with ASD. Instead, she says that autistic individuals need an opportunity to learn social skills and the skills they'll need to be productive in life, just as any other kid does.

From the New York Times to Forbes to Fox and Friends, Dr. Temple Grandin has been recognized many times in the public eye and is an inspiration to autistic and non-autistic individuals alike. As she puts it, even if a cure for autism were found, she would choose to stay just the way she is.
<!- mfunc search_btn -> <!- /mfunc search_btn ->
Tim Burton

Tim Burton's eerie live action and animated films – from Beetlejuice to The Nightmare Before Christmas among dozens of other more obscure works – have captured the imagination of millions of kids and adults alike. I guess Johnny Depp would've had a career on his own, but it certainly wouldn't be what it is without all those darkly delicious Burton flicks you and your kids love so much – Ed Wood, Edward Scissorhands, Sleepy Hollow, Sweeny Todd, Alice Through the Looking Glass, Charlie and the Chocolate Factory…

What those millions might not know, however, is that Burton believes he has Asperger's syndrome.

Though he wasn't diagnosed as a child, those who knew him described him as an introvert and recluse. He often chose solitary activities such as painting, drawing, and watching films, which would lead to his love of cinema, and ultimately, one of the most successful careers in movie production in the modern era.

It wasn't until much later in life that Burton's wife, Helena Bonham Carter, mentioned the possibility of Asperger's to Burton. Upon watching a documentary about autism, Burton explained that was how he felt as a child, spending his solitary days working on his passions.

Burton has won numerous awards, including the Daytime Emmy Award for Outstanding Children's Animated Program and the National Board of Review Award for Best Director. His films capture an otherworldly quality that's hard to explain—you just have to watch them to understand.
Matt Savage

If you're familiar with the world of jazz and concert pianists, then you've heard of Matt Savage. When Savage was just 13 years old, he took the jazz world by storm with virtuoso skill that had people comparing him to some of the all-time greats.

Savage was diagnosed with autism at the age of three—more specifically, he was diagnosed with pervasive developmental disorder. When he was just a toddler, his mom would play the piano to soothe him.

As he grew older, Savage went through a period where music offered too much sensory overload, but he eventually learned to process it through audio integration theory. Without audio integration therapy, we would never have heard the prodigy's beautiful rendition of jazz.

Savage began studying piano after completing therapy, even sneaking onto a live band's performance at a craft fair and improvising some tunes on their keyboard. In 2005, he began traveling the world to play, overcoming the strong aversion to noise he had during childhood.
Dan Aykroyd

Dan Aykroyd is a writer and an actor, best known as being one of the original cast members on Saturday Night Live before going on to a successful film career and writing the screenplays for the hilariously-eerie Ghostbusters and the raucous Blues Brothers with its all-star cast of some of the greatest R&B musicians of all time– who else other than a creative genius could've brought Aretha Franklin, Ray Charles, and Cab Calloway together with Carrie Fisher and John Belushi for comedy!

Aykroyd was diagnosed with Tourette's at age 12, but by 14 was able to manage his outbursts thanks to therapeutic interventions. He wasn't diagnosed with Asperger's until much, much later in life.

With craniosacral and shiatsu therapy as well as cupping treatments, Aykroyd says that he is able to manage Asperger's symptoms and social difficulties.

However, without Asperger's, we may not have ever gotten to experience some of the most beloved SNL skits and 80's comedies including Spies Like Us, The Great Outdoors and Trading Places.
James Durbin

If you're a devout fan of American Idol, you'll definitely recognize the name James Durbin. On the tenth season of the show, Durbin made it to the final round. You might recognize the melody of his single, "Parachute."

Diagnosed with Asperger's and Tourette's at the age of ten, James Durbin's mother made sure he had plenty of outlets for his greatest passions: music, art, and theater. He is famously quoted as saying, "I think music is like medicine and can be a benefit for anyone no matter what genre,"

Durbin uses his music as an outlet for his frustrations, which makes his songs relatable, especially to those with ASD. In "Screaming," Durbin speaks of being bullied and not fitting in: "got a lot of friends worth losing/I've got a lot of friends just using me."

<!- mfunc search_btn -> <!- /mfunc search_btn ->

On American Idol, for the world to see, he shared his story of being diagnosed with Asperger's and Tourette's. In the years since, he has had many fans and parents come to him and open up about living with ASD. Durbin's vulnerability and willingness to be a role model is inspiring. It could be said his greatest success is his ability to be a positive roll model for kids with ASD, but mostly, fans just love him for his eclectic personality and incredible voice.