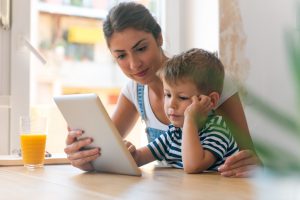 It's obvious to anyone paying attention that technology has the power to change human behavior.
It has become almost commonplace now for us to change the way we do things the instant technology adapts to serve particular needs. And once the technology is there to provide a new and better solution, that change becomes permanent and we never look back.
Who would even think of pulling off the road to make a phone call… or unfolding a map… or memorizing friends' phone numbers… or packing around a stack of CDs… or leaving a question un-Googled.
<!- mfunc feat_school ->
Featured Programs:
Sponsored School(s)
<!- /mfunc feat_school ->
Technology has become so much a part of our lives that we rarely think about the thousands of ways it takes up the slack and does the tedious tasks and heavy lifting we used to do manually. Sometimes, these behavioral changes come about completely unintentionally as new technologies come on the scene and make behaviors that were once a normal part of life completely obsolete. This can even have unintended consequences that aren't so great. For example, in 2015 Microsoft conducted a study that revealed how the average human attention span had shrunk from twelve seconds to only eight seconds over the course of only a decade.
But it's also possible to put this technology to work as a way to improve human capability and to intentionally alter the way people behave.
In fact, some of the same tools that have been unintentionally monkeying with our collective attention spans can also be powerful tools for applied behavior analysts to use when implementing a behavior intervention program (BIP). The fact that almost every man, woman and child in the industrialized world carries around a powerful computer in their pocket in the form of a smartphone, is an enormous point of leverage for behavioral interventions.
Harnessing Technology For Behavioral Change
Many BCT (Behavioral Change Technology) apps are aimed at consumers rather than the professional market, and sometimes parents will come in already sold on a particular solution based on how the product was marketed or after doing a quick read of some reviews.
Apps like coach.me, for example, may be a great help when it comes to behavioral coaching for some kids, but they aren't necessarily stringently designed to conform to the particular BIP requirements for each individual. This means ABAs may have to be prepared to gently discuss with parents why certain commercial apps may not be well-suited to the specific challenges their kids face.
In fact, the basis of these applications is often rooted in pseudo-science and a vague understanding of behavioralism based on antiquated perceptions of the field of behavioral psychology that have long since fallen away from current best practices. A review of health-care related behavioral apps published in the Annual Review of Psychology noted that as recently as five years ago many developers were not even aware that ABA was a science and apps were being developed without input from the ABA practitioners and other therapists who work with kids on the spectrum everyday.
<!- mfunc search_btn -> <!- /mfunc search_btn ->
As with all things related to ASD, it seems, there is no one-size fits all solution. Like so many pseudo-scientific cure-alls that have been emerging in recent years as the secret to solving the behavioral problems associated autism, there has been a rush to market to fill a demand with products that haven't been thoroughly vetted. Are ABAs more frequently included in the design of these popular apps a few years later in 2017? Without any legal requirements to develop apps in accordance with established guidelines, professional input or testing, this remains a guarded proprietary secret for many developers.
But some ABAs are themselves moving toward designing BCT apps using the technological capabilities available in modern smartphones. The new apps that are coming to market offer a whole new set of options for both consumers and the ABA professionals who design and implement behavior intervention programs. Some popular options include:
The best test for whether or not a particular app is going to serve the unique needs of your child – whether it's an app designed to assist with communication, or a behavioral prompt app designed to help kids manage their schedules and day to day tasks – ultimately comes down to whether or not it has passed muster with your ABA and they've recommended it. The personal familiarity your ABA has with your child coupled with their training and experience will help give you the peace of mind that comes with knowing you're turning your kid loose with an app that is likely to work.
Behavioral Change Technology Makes Use of Device and Software Capabilities
Some of the ideas for how apps can take advantage of the capabilities of a smart phone for behavioral modification in kids with autism come from apps designed to bring about behavioral change in areas other than ASD.
Mobilyze is an app that was originally created in 2011 and re-launched with some new upgrades in 2017. It makes use of various smartphone sensors to detect the likelihood that the user is experiencing depression based on their patterns of behavior, and then intervening with prompts at key points. The app has been shown to have greater than 90 percent accuracy rates in detection and result in a notable decrease in depressive episodes.
Similar apps for recovering alcoholics use GPS to detect when the user may be in danger of a relapse, based on proximity to bars they used to frequent. The types of data that can be collected from smartphone sensors or construed from other computer interaction, like web searches, is only just starting to be tapped by the ABA community.
The technology community is also reaching out further toward the scientific approaches of ABAs today. Stanford University's Persuasive Tech Lab looks at the ability of various modern technologies to change user behavior, introducing a new generation of computer science students to theories of behavior analysis.
ABAs Pull Out All the Stops When it Comes to Putting Technology to Use
ABAs are more commonly using technology designed for other purposes as a way to support and enhance the behavioral intervention programs they design and prescribe to kids with ASD.
One of the biggest changes in the profession in recent years has been the ability to use teleconferencing or video chat programs to provide services to patients remotely. And many ABAs make use of programs like TouchChat and iCommunicate to help implement their BIPs and coach kids and parents along the way. Since kids on the spectrum often do better with visual communication than verbal, this opens up dramatic new possibilities for delivering ABA therapy.
<!- mfunc search_btn -> <!- /mfunc search_btn ->
Although not explicitly BCT, these technologies are nonetheless powerful tools to help ABAs implement their techniques.
It is a safe bet that the way things are trending, standard consumer software will give more and more attention to design features that have the ASD community in mind. Coupling this with ASD-specific technology, ABAs can expect to see a lot more integration of behavior change technologies into their day-to-day work.