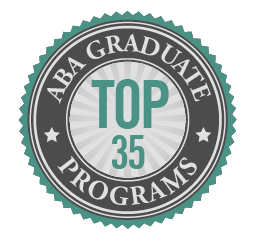 No list of top schools offering quality ABA graduate degrees is quite complete without including universities that offer doctorate programs. Sure, a master's is the generally accepted standard to practice as an applied behavior analyst (not to mention the standard path to earning BCBA certification), but more and more ABAs with sights set on contributing research and establishing independent practices of their own are going for their doctorate (a distinction that would qualify you for the highly esteemed BCBA-D certification, we should add).
So how did we approach the task of deciding which ABA graduate programs would make the list? Simple really – we considered the things we know to be most important to people looking to take the most efficient path to career preparation or advancement.
We know anybody weighing graduate program options is asking the same two questions: 'How long will it take?' and 'How much will it cost?' … And as it turns out, the answers to these questions are more closely related than you might think: It's all about the courses.
<!- mfunc feat_school ->
<!- /mfunc search_box_body ->
A master's or even a doctorate in applied behavior analysis alone isn't enough to make sure you're going to quality for the BCBA or BCBA-D certification you're after. If the program hasn't been pre-approved through the Behavior Analyst Certification Board (BACB) as including the right mix of courses, at best you'll need to submit your transcripts for review and after some tense weeks of waiting find out you made the cut… At worst, you'll learn that some of the course content you needed wasn't covered, giving you no other choice but to go through the costly and time consuming process of enrolling in a post-master's certificate program with a Verified Course Sequence.
The solution? Simply select a master's or doctorate program that already includes a BACB Verified Course Sequence (VCS) and save yourself some stress.
Since all the programs on our list are ABAI-BAAB-accredited, they've already received the BACB's stamp of approval. Not only is the course sequence these programs offer BACB-approved, they have also met other rigorous standards for accreditation enforced by the Behavior Analysis Accreditation Board of ABAI.
Whether you're interested in earning a master's in applied behavior analysis, or even if you're ready to start studying ABA at the doctoral level, we hope the information we've gathered will help you narrow down your options and find a program that best meets your needs.
The following list of master's and doctoral programs are presented in no particular order, and we've made no attempt at ranking them. Instead, we've provided what we think are the most relevant points about each program so that you can make a well-informed decision on your own.
Master's and PhD programs are listed separately and some schools on our list offer both. To give you the full picture of what each school offers, we included all the ABAI-BAAB accredited programs within the department.
So here it is – a complete list of the best ABA graduate programs around…
Master's Degree Programs in Applied Behavior Analysis or with an ABA Focus
<!- mfunc search_btn -> <!- /mfunc search_btn ->
---
This list features programs that our editorial staff hand selected to present as top recommendations. We believe the many aspects of a program that come together to create an exceptional student experience can't be reduced to numbers alone, so no formula was used to attempt to score or rank these programs. Instead, they represent our top picks based on a thoughtful review of the things we know mean the most to students. Each one of these programs offers something unique, and all come equally highly recommended. We stand behind the principal of editorial integrity and make these recommendations independently and without compensation.
---
ALABAMA
CALIFORNIA
FLORIDA
ILLINOIS
KANSAS
LOUISIANA
MARYLAND
MASSACHUSETTS
MICHIGAN
MINNESOTA
MISSOURI
NEVADA
NEW JERSEY
NEW YORK
OHIO
TENNESSEE
TEXAS
OSLO, NORWAY
Doctoral Degree Programs in Applied Behavior Analysis or with an ABA Focus
FLORIDA
ILLINOIS
KANSAS
MASSACHUSETTS
MICHIGAN
NEBRASKA
NEVADA
NEW JERSEY
NEW YORK
OHIO
WEST VIRGINA
Note: Student-to-faculty ratios represent the institution as a whole, not the featured program. Tuition and related fees do not take into account any type of financial aid you may qualify for, and books and related expenses are not included in the total. In instances where ABA was offered as an area of focus within a psychology or education program, the institution provided the total number of graduates within those majors.
All schools shown here have been contacted and informed of their inclusion on this list. Schools that do not wish to be featured are immediately removed. School names are the registered trademarks of their original owners. The use of any trade name or trademark does not imply any association with the school.
<!- mfunc feat_school ->