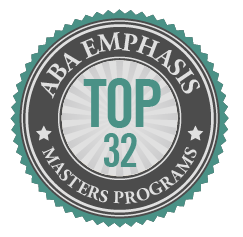 We can't help but have crazy respect for teachers, particularly those with the insight to recognize how valuable skills in applied behavior analysis can be when it comes to managing a classroom and creating the best possible learning environment for students with special needs.
There are a number of paths educators can take when making the decision to add ABA to their list of skills, and most involve meeting the qualifications for the Board Certified Behavior Analyst (BCBA) credential through the Behavior Analyst Certification Board (BACB).
If you already hold a master's degree, then a non-degree BCBA course sequence will provide you with the extra courses you need to take the BCBA exam… But if you're still preparing to pursue a master's degree in special education or general curriculum and instruction and you're looking to focus your studies on applied behavior analysis, then there's nothing like a master's in education with an ABA emphasis to get everything you need all in one program.
<!- mfunc feat_school ->
<!- /mfunc search_box_body ->
When completing a BACB Verified Course Sequence (VCS) along with your master's, you'll not only satisfy state requirements for any special education endorsements that might be available to you, you'll also meet the curriculum requirements for the esteemed BCBA credential. Imagine – you could complete your graduate studies, along with the course sequence necessary to qualify to sit for the BCBA exam in a program where ABA coursework is embedded as a way to complement your teacher education.
Since our list only includes programs with a Verified Course Sequence, there's no second-guessing whether the ABA courses meet the requirements for BCBA certification. And because these programs are all regionally and/or nationally accredited, you know they'll meet state licensing and endorsement requirements too. And to make things even easier on you, you'll even find options here that are offered partially or fully online.
A chance to earn your master's degree in education with the courses you need for BCBA certification all in one online program that doesn't get in the way of your work schedule… these are the kinds of graduate programs every teacher dreams about finding.
Here they are – all 32 of them.
---
This list features programs that our editorial staff hand selected to present as top recommendations. We believe the many aspects of a program that come together to create an exceptional student experience can't be reduced to numbers alone, so no formula was used to attempt to score or rank these programs. Instead, they represent our top picks based on a thoughtful review of the things we know mean the most to students. Each one of these programs offers something unique, and all come equally highly recommended. We stand behind the principal of editorial integrity and make these recommendations independently and without compensation.
---
ARIZONA
CALIFORNIA
COLORADO
FLORIDA
HAWAII
ILLINOIS
INDIANA
KENTUCKY
LOUISIANA
MASSACHUSETTS
MICHIGAN
MISSOURI
NEVADA
OHIO
PENNSYLVANIA
TEXAS
UTAH
VIRGINIA
WEST VIRGINIA
All schools shown here have been contacted and informed of their inclusion on this list. Schools that do not wish to be featured are immediately removed. School names are the registered trademarks of their original owners. The use of any trade name or trademark does not imply any association with the school.
<!- mfunc feat_school ->