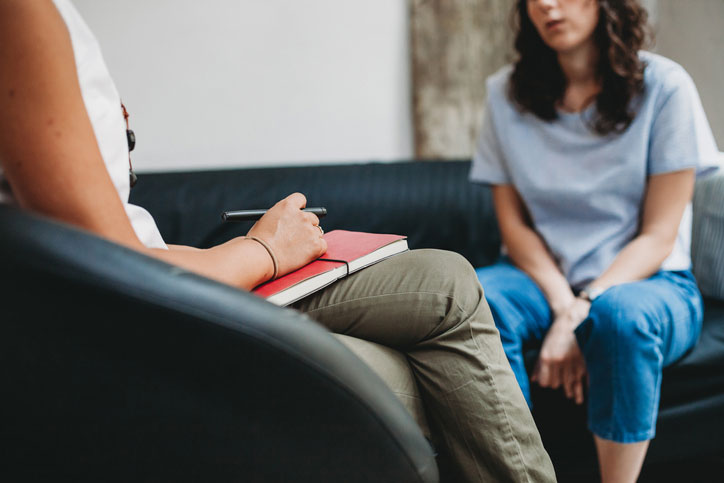 Applied behavior analysts are mental health professionals who provide invaluable assistance to individuals who are living with autism, helping them build emotional and learning skills that will improve their lives. Indeed, part of the Applied Behavior Analysis definition is acting as a mental health resource for people who need it in order to live comfortable and well-adjusted lives. This means it is a job that requires dedication, compassion, and no small amount of effort, as any practitioner will tell you that the job can be quite challenging. But while ABA therapists and counselors make tremendous efforts to provide support for others, they do not always find the time to seek the support they may need themselves to cope with the demands of their job.
Those who have experience as ABA therapists know how taxing the work can be. Clients can be challenging to work with, resisting participating fully in the day's activities or failing to show progress even in the face of considerable effort. Empathetic counselors can also find it dispiriting to see patients repeatedly struggle, suggesting larger existential challenges of their jobs. But many who work in these roles worry that it is inappropriate to voice these concerns, or that having them is somehow a professional failure.
Indeed, it is something of a phenomenon for those who work in the mental health profession to see themselves fundamentally as providers – stable, well-trained figures who provide sturdy shoulders for others to lean on. But this self-conception can sometimes make it challenging for such people to acknowledge and admit that they are themselves in need.
Taking responsibility for others' mental health does not mean that one should neglect their own emotional needs.
In fact, one can see it as an investment in their career (among other things). By taking the time to focus on your own emotional life and facing your struggles head-on, you'll be empowering yourself in the long run and creating conditions that will make your work life more sustainable. By committing to a healthier work-life balance and finding strategies to prioritize your own needs, you'll be a better ABA therapist and find yourself more fulfilled. You'll also be making an important effort to prevent burnout, which will keep you thriving in your career for longer and able to help more people in need.
<!- mfunc feat_school ->
Featured Programs:
Sponsored School(s)
<!- /mfunc feat_school ->
Identifying your mental health needs
The first step in finding the appropriate support for you is identifying your largest mental health concerns. This can help direct you to the services that are most appropriate for your needs. (For some people, it is not easy to find clarity on this question, and general counseling can be a great way to open up a dialogue around your own mental health.)
Some of the greatest mental health struggles that ABA practitioners can face are the following:
Anxiety
Depression
PTSD
Addiction and substance abuse issues
Suicidality
Compulsive behaviors
Compromised sleep schedules
Burnout
This means that services to help the general public with these issues can be applicable for you, and as a mental health professional, you may already know of many resources. However, looking for services that can support others as opposed to oneself can come with different considerations. For mental health professionals, it may be important to find counselors or support groups that understand the particular ins and outs of ABA as a field, from the applied behavior analysis definition to the methodologies that structure your time with patients.
The following is a list of resources for applied behavior analysts who seek mental health support. It includes recommendations for direct counseling as well as ABA support groups and mental health advocacy organizations that can help you take the reins on your emotional life to do your best work possible.
Counseling and Therapy Services
The most hands-on way to address your individual mental health needs is through direct counseling. You are likely already aware of the power of direct counseling, as part of the applied behavior analysis definition is providing direct one-on-one support to those who need it. The same applies to you in whatever issues you might be facing: staking out focused time to address your own needs as an individual can do wonders for your mental and emotional life.
Not only are your sessions likely to help you articulate and acknowledge your concerns to better take them on, but the mere fact of carving out time that is devoted to yourself and your own self-betterment is an important gesture, indicating that you are committed to making space in your own life for your own needs.
The following is a list of counseling and therapeutic resources for ABA therapists.
Therapy for Therapists Collective
This organization provides pro bono therapy services to practicing mental health clinicians. It is possible to participate in the collective just as a patient, or as a patient and therapist to others.
This portal allows you to find a therapist in your area, drawing from a large network of mental health professionals. You can search through their roster to find therapists attuned to your unique needs.
Find Treatment: An Initiative of SAMHSA
This website is part of the U.S. Substance Abuse and Mental Health Services Administration. It includes extensive counseling resources addressing a wide range of patient needs and backgrounds to help you find the exact mental health support you are looking for.
Psychology Today — Find a Therapist
Psychology Today is a leading mental health publication. Their Find a Therapist service is designed to assist users in finding mental health professionals in their area and features a large number of mental health professionals working in different therapeutic modalities with different areas of focus.
ABA Support Groups
In times of stress and fatigue, it can be energizing and empowering to meet others in similar positions to your own who share an understanding of your unique experience and the professional pressures that you are facing. This is where support groups can be tremendously useful, facilitating introductions between people in similar fields who can lean on each other and share professional and personal strategies that can help you take the reins on your mental health.
Here is a list of ABA support groups that will specifically put you in conversation with other mental health practitioners:
GroupTherapyCentral: Online Groups for Therapists
This resource from GroupTherapyCentral provides a list of online support groups that are designed to help therapists find other like minded professionals to discuss professional pressures, personal needs, and more. Some groups are open to the general population of mental health professionals and others are focused on individual issues or identities.
GoodTherapy: For Therapists – How to Find a Good Peer Consultation Group
This article gives a primer on what to look for as a therapist seeking a network of other therapists for professional and personal support.
Mental Health Advocacy Organizations
The following is a list of resources from mental health advocates that specifically speak to the need for mental health professionals to practice self-care.
The American Counseling Association: Self-Care Resources for Counselors
The ACA is one of the largest mental health organizations in the country. This website provides educational articles and other resources to encourage applied behavior analysts and other mental health professionals to find the support they need.
California Association of Marriage and Family Therapist: Self-Care Therapists
Though technically designed for marriage and family therapists, this resource directory from CAMFT is equally applicable to ABA practitioners. It includes videos, articles, instructional guides, and more.
ICANotes: Self-Care for Behavioral Health Professionals
Since the applied behavior analysis definition fits into the category of behavioral health, this guide is especially suited to your needs.
Texas Health & Human Services: Self-Care – The Session Focused on You!
This guide from the Texas Health and Human Services Commission includes research-based studies on the mental health needs of behavioral health practitioners, including ABA therapists.
Learn More About Applied Behavior Analysis
If you are interested in learning more about becoming an ABA therapist, you've found the perfect resource to help you start your journey. Our website features everything you need to know, from the applied behavior analysis definition to the variety of career paths that are out there to the best training programs available.
<!- mfunc search_btn -> <!- /mfunc search_btn ->
For a complete guide to ABA careers and the applied behavior analysis skills needed to pursue them, visit our article here.
To read about a variety of ABA-related topics, from practice-related techniques to the most up to date applied behavior analysis definition, visit our blog here.
For an overview of educational programs for aspiring ABA practitioners, their licensure requirements by job title, and more, visit our homepage here.