The development of more effective approaches at diagnosing autism spectrum disorder (ASD) and the creation and implementation of cutting-edge therapies used to treat the symptoms of ASD have improved the way we approach and treat those with autism. Now, more than ever, we must ensure that individuals with ASD are surrounded by professionals who understand the specific needs of this population.
As a professional who provides services and/or support for children and adults with autism spectrum disorder (ASD), you have a unique responsibility to ensure you're part of a strong system of care and support for these individuals.
The International Board of Credentialing and Continuing Education Standards (IBCCES) developed the Autism Certificate (AC) as a voluntary, special needs certification for educators and other licensed professionals whose job entails working with or having direct or indirect contact with individuals with ASD. The IBCCES developed the AC as a well-rounded, comprehensive autism training program that's appropriate and relevant for nearly any discipline that works with individuals with ASD.
So what is "autism certified," exactly? Being autism certified can mean you hold one of two industry-leading credentials: Autism Certificate (AC) or Certified Autism Specialist (CAS), both of which are offered by IBCCES. Both require similar training hours, but the AC designation we'll be discussing here is more accessible in that it doesn't require as much formal education and experience.
The AC has become a trusted, internationally recognized designation (in more than 82 countries and counting) in the autism community. In fact, as of 2021, nearly 139,000 individuals either hold the AC or are training to become certified. The IBCCES has made earning autism certification online through the IBCCES easy and convenient, allowing individuals to earn their AC on their own time and according to their own schedule.
Hold an AC credential and you'll be among a select few in your profession who, through professional certification, have shown their commitment to their profession and to the needs of children and adults with ASD.
Earn the AC and you'll not only demonstrate your dedication to promoting quality care for those with ASD, you'll also position yourself for greater and more varied professional opportunities, you'll establish yourself as a leader in the field, and you'll set yourself up for increased earnings.
Is the Autism Certificate Right For Me?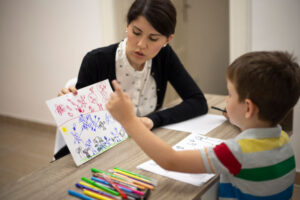 What makes the AC quite unique is that it delivers a thorough course of study in autism and a method of testing autism competencies for professionals who provide direct services or support services, or who work in an environment with children and adults with autism.
Therefore, if you work either directly or indirectly with children and adults with ASD or have contact with them, chances are the AC is right for you and your career.
While most applicants who seek the AC designation are currently employed, you may also pursue the AC if you're preparing for a job that requires you to work with children or adults with ASD.
Just some of the professionals who hold the AC designation include general education and special education teachers, teacher's aids and other paraprofessionals, behavior specialists, first responders, daycare providers, medical office staff, bus drivers, and more.
<!- mfunc search_btn -> <!- /mfunc search_btn ->
How to Earn the Autism Certificate?
So how do you get an autism certification? If you work in any role that puts you in frequent contact with individuals with ASD, you then just need to complete 14 specialized training modules and pass the Autism Certificate Competency Exam.
Follow the few basic steps in the guide to learn more…
STEP 1. Meet the Training Requirements for the AC
To earn the autism certificate, you'll need to complete at least 14 CE hours through the IBCCES. Embedded within the requirements for earning the AC are 14 continuing education (CE) modules that are designed to focus on best practices in ASD. You guessed it – each of those 14 modules takes about an hour, giving you the 14 total hours of training you need.
A general overview of ASD is supplemented with areas of study in behavior, IEP and program development, parent communication, comorbidities, and early childhood identification of ASD.
However, if you've already earned CE hours from an outside source within the last two years, you may already be eligible for certification. Once you've completed the required CE hours (or submit your previously earned CE hours to ensure they meet IBCCES standards), you'll be required to take and pass the online Autism Certificate Competency Exam and pay the $295 registration fee. The cost of training and the competency exam is included in this cost!
Once you earn the AC, you'll be listed on the International Registry as an Autism Certificate holder, and you'll hold an official Certification Number. You'll receive a wallet ID card and an official certificate to display in your classroom or office.
STEP 2. Take the Autism Certificate Competency Exam
The Autism Certificate Competency Exam is an autism certification online exam that includes about 40 multiple choice questions designed to assess your knowledge in the IBCCES' Ten Areas of Autism Competency:
Autism Overview: 26%
Behavior Competency: 17%
Communication Competency: 7%
Social Skills Competency: 5%
Environment Competency: 7%
Emotional Awareness and Bullying Competency: 5%
Sensory Awareness Competency: 7%
Program Development Competency: 15%
Motor Skill Competency: 2%
Medical and Health Considerations: 7%
Just some of the types of questions you can expect to be asked include:
What are the different types of ASD and what are their signs and symptoms?
What red flags should I be aware of regarding behavior?
How is an individual diagnosed with ASD, and what treatment strategies are commonly used?
What are some of the strengths of individuals with ASD?
What are the factors that influence behavior?
What is behavior modification and what are some positive behavior supports and intervention techniques used?
How is cognitive behavior therapy used to treat individuals with autism?
What is crisis intervention?
What specific intervention and teaching strategies related to autism are commonly used?
What are some of the assessment tools and treatment strategies related to ASD?
What are some positive strategies for increasing parent communication?
What are potential comorbid disorders (e.g., anxiety, ADHD)?
You'll have 60 minutes to complete the exam. Once the exam begins, the online proctoring system will prevent you from opening any websites or documents. You must complete the exam in one sitting and complete all questions in order (you won't be able to skip questions on the exam and return to them). Once you submit your application to the IBCCES, you'll receive instructions on how to access the exam.
You'll then be notified within 24 hours of completing the exam about your results. A score of at least 80% is required to pass the exam.
<!- mfunc search_btn -> <!- /mfunc search_btn ->
STEP 3. Maintain the AC Credential
After you earn the AC, you'll need to renew it every two years by earning at least 14 additional CE units/hours in autism competency areas and paying the $149 renewal fee. All previously earned CE hours or future CE hours must follow CE guidelines established by the IBCCES. Note: One CE unit = one contact hour (60 minutes).
You can earn CE hours by taking post-secondary courses, online programs or courses, or courses offered through your school district or learning center, or by attending national conferences.
The IBCCES does not accept CE hours for attending meetings, volunteering, routine work experience (when the activity is part of your normal job responsibilities), or for supervision, research, curriculum development, or publication-related activities.
The IBCCES also partners with universities and online educators across the country to provide approved online training programs that are available to individuals when earning their initial or renewal CE hours.
Already have a bachelor's and ready to commit yourself fully to a career working with people with ASD by becoming a Board Certified Behavior Analyst? Take the first step by finding a master's degree program.
<!- mfunc feat_school ->
Featured Programs:
Sponsored School(s)
<!- /mfunc feat_school ->