We recognized Arcadia University among the 62 Best Schools with Online ABA Master's and Certificate Programs, adding them to our list of top recommendations for ABA grad students.
We were excited to hear from Sarah Woldoff, Ph.D/BCBA, a faculty member at Arcadia University who took the time to answer a few questions about how the school works to create a great student experience that helps prepare graduates for a career in applied behavior analysis.
<!- mfunc feat_school ->
Featured Programs:
Sponsored School(s)
<!- /mfunc feat_school ->
Arcadia University Programs:
M.Ed. with a concentration in Applied Behavior Analysis
Graduate Certificate in Applied Behavior Analysis
---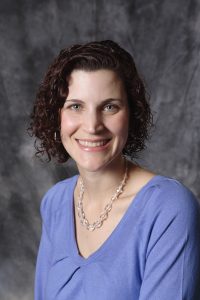 Professor/Faculty Name:      Sarah Woldoff, Ph.D/BCBA
Tell us about the types of students you see come through your program. Are you seeing more non-traditional students and career changers coming from other fields?
Sarah:  We are definitely seeing a growing trend in "non-traditional" graduate students in our program.  Many people start off in the workforce in one field and then over time decide to change careers.  These students enter our program with great knowledge and expertise that really is a positive attribute and is beneficial to other students in the cohort.  We have seen students with backgrounds in various industries such as Education, Pharmacy Sciences, Business, and Anthropology who have decided to pursue the field of ABA and utilize their unique backgrounds.  Sometimes this change is driven by having a family member diagnosed with an Autism Spectrum Disorder or learning more about the needs in this field due to a fundraising activity at their place of employment or through social media.
What areas of practice are you seeing graduates going into? Do they tend to find jobs in the local school districts or more often join private practices?
Sarah:  Demand is growing for behavior analysts locally, nationally, and internationally.  Many of our graduates are working in local school districts but many are also joining center-based and in-home ABA Agencies  While the majority of our graduates pursue careers working with children and adults with cognitive, developmental disorders, and ASD, other students have carved out their own path in corporate consultation, counseling, and health coaching.
<!- mfunc search_btn -> <!- /mfunc search_btn ->
What are some of the things you love most about the ABA program at your university – the kind of things you'd like future students to know about as they consider their options?
Sarah:  I love the small community and the history of Arcadia University.   Teaching others about ABA and best practices in the field has become my passion.  I love that we are able to reach students from all over the country and internationally to create a unique cohort of students with amazing backgrounds and experiences.  Currently we utilize an online model but also offer hybrid opportunities for students who want to further connect with their cohort and professors.  This is achieved through live virtual classroom opportunities, live virtual office hours where students can "drop in" to touch base with a professor, and related meetings.  We frequently update our materials and course content to ensure we provide up to date information based on changes in the field and student feedback collected through evaluations and advising appointments. Finally, the core faculty in our program provide mentorship and share their diverse backgrounds with students to further refine skills and carve out career pathways.  We strive to support our students from the day they enroll and maintain relationships with many of them far beyond the graduation date.
What do you feel are the most pressing issues in ABA today, and how does the program at your school prepare graduates to address these issues?
Sarah:  As the prevalence of Autism grows across the country, so does the demand for qualified Behavior Analysts.   This coupled with the growth of insurance and government initiatives is placing a lot of pressure on agencies to provide services efficiently and quickly to meet this ever growing demand.  This can lead to ethical concerns regarding adequate training as well as lead to large caseloads for many BCBAs.  Our program attempts to address these needs by ensuring our students understand ethical codes within the field of ABA, best practices within the field, and how to address the potential hiccups experienced by early career practitioners.   We also provide a comprehensive program that includes an understanding concepts and principles of behavior, clinical applications of ABA, reading and understanding research in the field, and data driven decision making.  Recently, we created a 1 credit course to better prepare students for the field including an understanding of the certification process by state, the available employment options in the field, the need for supervised clinical experiences, and a focus on personal growth including work/life balance.
Which local agencies in the Tri-State area offer students enrolled in your program opportunities to receive practicum experience?
Sarah:  We have established several paid practicum opportunities for students enrolled in our program who live in the Tri State area including center-based, school based, and in-home therapy providers.  Agencies such as Behavior Interventions Inc. and  Easter Seals have amazing opportunities available for students where they can gain experience working with students diagnosed with Autism, exposure to verbal behavior classroom settings, direct experience with children across settings, while receiving direct supervision hours needed to meet criteria to sit for the BCBA examination.
What inspired your university to create the uniquely designed Modular Master's program?
Sarah:  The Modular Masters Program was developed with the convenience and current trends in education, work, and community contexts in mind.  This program allows students the flexibility to join areas of interest that students will not find in other programs to create a personalized and unique educational experience.  For example, if you are interested in Applied Behavior Analysis and educational leadership, you can choose to combine certificate modules in these areas to create a specialized masters degree to meet your needs.  These options were important when designing the ABA Program to address student interests as some students may be interested in Autism and ABA while other students may wish to address ABA in Inner City Educational Settings.  This program allows us to meet the ever changing landscape of Applied Behavior Analysis and expand the scope of the field to provide a greater variety of job paths for future behavior analysts.
What kind of feedback have you gotten from students as a result of this individualized style of design? Students have really enjoyed the opportunity to design a program that meets their interests and career goals.  Students have also responded well to the online program which allows them the flexibility to maintain employment while advancing their education.  Course material is always accessible online and students can establish a sense of work/life balance without added expenses.
Please feel free to add anything else you would like potential students to know about your program; things that would be good for them to consider before choosing a program.
We have an amazing group of professors teaching the courses at Arcadia University.   While the program may be challenging, you can be sure you will graduate with the tools needed to become a Board Certified Behavior Analyst.  It is also an exciting time at Arcadia, as we are continuing to foster several partnerships with agencies to continue to provide opportunities for our students to gain needed supervised hours and possible research experience.   We are in the process of starting a new program that will allow students to earn a Bachelor's degree (BA) and a Master's degree (MA) in just five years of study.  This combined BA/MA program will provide another route for obtaining the research and clinical experience needed to pursue board certification with a blend of on-campus and on-line educational experiences.  Lastly, our graduate program is cost effective and can be completed according to your pace to meet your needs.
---
Check out our full interview series here to see what other professors and faculty are saying about their ABA programs.
<!- mfunc search_btn -> <!- /mfunc search_btn ->