We recognized Mary Baldwin University for offering one of the 32 Best Master's in Education Programs with an ABA Emphasis, adding them to our list of top recommendations for students in the area.
We were excited to hear from Dr. Rachel Potter, BCBA-D/LBA, a faculty member at Mary Baldwin University who took the time to answer a few questions about how the school works to create a great student experience that helps prepare graduates for a career in applied behavior analysis.
<!- mfunc feat_school ->
Featured Programs:
Sponsored School(s)
<!- /mfunc feat_school ->
Mary Baldwin University Programs:
Master of Science in Applied Behavior Analysis (includes BCBA verified course sequence)
Bachelor of Arts, major in Autism Studies & Applied Behavior Analysis (includes BCaBA verified course sequence); BA/MS dual degree option (includes BCBA verified course sequence)
Undergraduate Minor in Applied Behavior Analysis (includes BCaBA verified course sequence); Bachelor's/MS dual degree option (includes BCBA verified course sequence)
Coursework toward BCaBA certification (verified course sequence for those that already have an undergraduate degree)
Coursework toward BCBA certification (verified course sequence for those that already have a master's degree)
---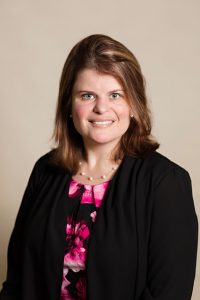 Professor/Faculty Name:      Dr. Rachel Potter, BCBA-D/LBA
Tell us about the types of students you see come through your program. Are you seeing more non-traditional students and career changers coming from other fields?
Rachel:  While we have a few students entering our graduate program right out of their undergraduate programs, most of our MS in ABA students are currently working in the field as RBTs or behavior support clinicians.  We are also seeing teachers and para-educators who are wanting to increase their skill set in the area of ABA while pursuing a graduate degree. We have also had some practicing social workers who are seeking to shift trajectory while still staying within a similar field of practice. In the last few years, we have also had a handful of collegiate athletic coaches entering the program, working to improve individual and programmatic performance through applying the principles of ABA with their athletes and teams.
What areas of practice are you seeing graduates going into? Do they tend to find jobs in the local school districts or more often join private practices?
Rachel:  Current graduates from our ABA programs are working in school settings, clinical/in-home settings, and for state/local government agencies. Most of the students in our program currently are planning to work for agencies that provide school-based or in-home and/or in-clinic services to clients with developmental disabilities.
<!- mfunc search_btn -> <!- /mfunc search_btn ->
What are some of the things you love most about the ABA program at your university – the kind of things you'd like future students to know about as they consider their options?
Rachel:  The ABA programs at MBU prepare students to have skill sets not only in the technical aspects of behavior analysis, but also in leadership and compassion.  Our graduates are prepared to work with a diverse array of clients and colleagues across many settings.  We take great pride in the fact that our program equips students for educational, clinical, social, and organizational practice. While the BA in Autism Studies & ABA includes an additional twelve specialized credit hours in the study of autism, the ABA coursework itself offers the breadth of application to be truly cross-disciplinary so that our graduates are ready to apply their new skills in their particular area of interest.
At MBU we are also very proud that our ABA instructors come from a variety of experiences in terms of applications of their knowledge of learning and behavior.  While many have experience with autism and developmental disabilities spanning the ages, we also have instructors with experience in correctional settings, working with sensory impairments, with expertise in sexuality education, in policy and political advocacy, in business and organizational management, and in animal behavior and training.
What do you feel are the most pressing issues in ABA today, and how does the program at your school prepare graduates to address these issues?
Rachel: The most pressing issue is the lack of qualified service providers; by presenting undergraduate options (a major and a minor, each with the option of an accelerated dual degree), a competitive graduate MS program, and coursework toward certification for those only needing BCaBA or BCBA coursework, Mary Baldwin University is offering multiple pathways.  Additionally, all of these options are available 100% online to make them as widely accessible as possible.  They are also all available as a hybrid option on our Staunton, Virginia campus. Furthermore, to express gratitude to those who have already committed service to the field by becoming Registered Behavior Technicians, MBU offers a "RBT Advantage" tuition discount (BCaBAs are also eligible for this discount).
A second pressing issue is the misconception that ABA is solely a program for "autism treatment." ABA has a multitude of applications in the realm of behavior change beyond only autism, and the ABA programs at Mary Baldwin will be sure to prepare students to apply their learning of behavior analytic principles and technologies across a breadth of disciplines. Certainly the BA in Autism Studies & ABA does carry additional focus in the study of autism spectrum disorders, but the ABA coursework teaches students to apply their knowledge to diverse settings, experiences, and domains where ABA may be practiced.
The ABA coursework program helps students earn BCaBA or BCBA certification. What are the advantages of offering this program strictly as a course sequence option?
Rachel:  Offering these as 'course sequence options only' (in addition to our degree offerings) allows students who already hold the pre-requisite degrees for examination eligibility to take the necessary coursework without having to complete a second degree. The students are fully integrated with those in our degree-seeking programs and are held to the same rigorous standards and expectations.
The school offers a BA in Autism Studies & ABA and an accelerated BA/MS in ABA program. How much time do students save by enrolling in the accelerated pathway?
Rachel:  Students who major in Autism Studies & ABA who select the dual-degree BA/MS option save about one year of graduate school in terms of time and expense. Approximately half of their graduate program is completed while an undergraduate student and counts concurrently toward both undergraduate and graduate degree requirements. Ultimately, this is a cost savings of 17 graduate credit hours.  Additionally, it permits promising undergraduate students to begin graduate-level ABA courses so that they are preparing directly for the BCBA examination rather than first for the BCaBA exam.
Students who select other undergraduate majors, whether earning a BA, BS, BSN, or BSW, who minor in ABA, are eligible for a parallel Bachelor's/MS accelerated pathway through which they will also begin graduate-level ABA courses while an undergraduate student, completing 17-credit hours of graduate coursework during the undergraduate program, counting both toward the undergraduate and graduate degree. This leaves one remaining year to complete the MS in ABA with the associated BCBA coursework.
Does the Mary Baldwin MS in ABA program help students find supervised fieldwork so they can meet BACB certification requirements for supervised hours?
Rachel:  Students are responsible for securing their own fieldwork placements for the Supervised Independent Fieldwork requirement for examination eligibility. Faculty in the program are happy to provide advice to students and offer to facilitate introductions between students (particularly those that may be in Virginia) and our network of ABA practitioner partners who may be willing to host fieldwork students. We do not, however, arrange for fieldwork placements or provide the required supervision.
Please feel free to add anything else you would like potential students to know about your program and that would be good for them to consider before choosing a program.
Graduate tuition = $495/credit hour
Undergraduate online tuition = $460/credit hour
On-campus/residential program tuition = $30,690/year
MBU has been offering a BACB-Verified Course Sequence since 2012, but has been teaching coursework in behavior analysis since 1974. The university itself is known for personalized advising, responsiveness of faculty, and has a long standing history of offering courses online, many of which are taught by the same faculty that teach on our historic Staunton campus.  Mary Baldwin University was established in 1842, and continues her proud legacy of graduating students who want to change the world through innovation, compassion, and service.
---
Check out our full interview series here to see what other professors and faculty are saying about their ABA programs.
<!- mfunc search_btn -> <!- /mfunc search_btn ->