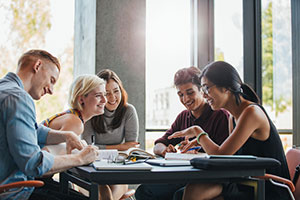 You chose the field because the efficacy and reliability of the underlying science behind ABA therapy speaks for itself… you've seen first hand how it can change lives… and your patience and deep sense of compassion mean you're cut out for the work.
Ironically, the same compassion and work ethic that make you a good therapist can also lead to burnout and disillusionment.
Little data about burnout in the ABA community exists, but research suggests that turnover rates range from 30 – 70%.
"I think one of the problems with maybe all human service professions is, once you finish that degree and complete your internship you're kind of out there on your own," says Dr. Michael Dorsey, LABA, BCBA-D and professor at Endicott College. "And if you're not working in a group practice, working in a place that has a bunch of behavior analysts all working under the same roof, who are you going to talk to?"
<!- mfunc feat_school ->
Featured Programs:
Sponsored School(s)
<!- /mfunc feat_school ->
Find Your Community in a Local Professional Association
And yet even with all of these challenges there are those therapists who thrive, still loving their jobs twenty and thirty years in. So the question is, how does a young practitioner prepare themselves with the kind of fortitude and commitment to excellence it takes to serve clients with the same level of unwavering dedication on day one as on day one-thousand.
"This is going to sound weird for a behavior analyst to say this, but I think that the best thing in the world you can do is to have a support group of people that are in similar situations," Dr. Dorsey says.
During his time at Simmons College he and a handful of colleagues quickly realized that their new graduates needed more support in order to stay in the game for the long haul.
"We got together and said, we need a situation where these people can get together with their friends and peers and they can talk about and share experiences and help support each other."
So he and a handful of colleagues set up The Greater Boston Association for Behavior Analysis. Meeting monthly at Simmons College, they invited guest speakers and then discussed the challenges they all were facing out in the field.
"So somebody from Boston Public Schools would say 'I'm facing this—' and somebody from Newton Public Schools or Wellesley or Plymouth or whatever would say 'Well, I faced the same thing and here's what I did.' They're sharing and supporting each other."
<!- mfunc search_btn -> <!- /mfunc search_btn ->
Why Peer Support and a Sense of Community Works
While looking out for your own psychological and emotional health and getting the administrative support you need to run the business are both major factors in long-term success, having a group of peers you can consult, bounce thoughts off of and commiserate with might actually be just as important.
"Isolation is one of the leading factors…that can lead someone to distress and impairment," says James Oraker, PhD, director of the Clinical Health Psychology program at the Colorado School of Professional Psychology. "Peer consultation groups keep you from isolation, and help you to stay present with colleagues."
In addition, these support groups offer a forum for young ABA therapists to discuss things like:
Creative solutions for tricky cases
Responses to conflict with other professionals
Practical steps for self-care
Accountability with boundaries
Work-life balance.
Meeting in person with a small group of familiar colleagues just feels good. It creates an environment where it's easy to establish trust and feel comfortable voicing concerns and appealing for the help you might need from people you know won't judge you. The private nature of a group like this allows you to be open about both your own personal concerns and information about something that might be going on with a client that you could use some advice on.
How to Find – or Build – a Trusted Community of Colleagues
Ideally, you can connect with a handful of trusted BCBA's at various stages in their career for a variety of perspectives. You're likely to find others eager to do the same thing…
Join an Existing Group…
Ask professors and intern supervisors if they know of any groups you can join after graduation. Keep in contact with alumni who graduate ahead of you and find out how and where they've plugged into peer support groups. Connect with your local ABAI chapter to meet other professionals and find out whether there are any affiliated groups.
Start a Facebook Group, and then Jump Platforms…
You don't have to be an expert to start a group. As a facilitator, your job is simply to get things organized. You might be surprised to find that even seasoned therapists are excited about the idea of connecting with others in the ABA community.
Consider starting a private Facebook group. The beauty of doing this is that there are no geographic limitations and you can connect with skilled practitioners from all over the country, and the world.
While Facebook can be a place to meet with other professionals and get basic support and information, for confidentiality reasons discussing the particulars of specific cases or clients is something that needs to happen on another, more secure platform, like through a private Skype or Zoom meeting.
Dr. Dorsey and others like him continue to thrive in practice many decades into their careers. "You need help," says Dr. Dorsey. "And you need support. And you need people who have had similar experiences that can help guide and support you."
<!- mfunc search_btn -> <!- /mfunc search_btn ->