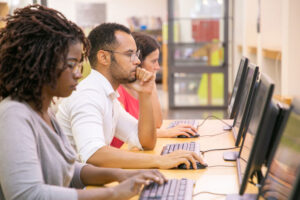 The Behavior Analyst Certification Board's (BACB) Registered Behavior Technician (RBT) credential has a number of different requirements you'll have to meet in order to earn it. One of the final steps to becoming an RBT involves taking and passing the Registered Behavior Technician Exam, a comprehensive test that validates all your other training and experience.
The RBT exam validates that you absorbed the information you need to be successful working with clients on the job. It is an important first step on your path to many types of careers in applied behavior analysis. You can only take the exam after you have gone through your mandatory 40-hour RBT training and been evaluated by a behavioral therapist in-person to ensure you have all the basic competencies down cold. That means you'll have a lot of opportunities to get your knowledge and skills set before you go through the test.
<!- mfunc feat_school ->
Featured Programs:
Sponsored School(s)
<!- /mfunc feat_school ->
But as everybody knows, tests can be a lot harder than real life! You can maximize your chances of passing the exam by understanding how it is put together, how it is scored, and what the best study strategies are before you sit down to take it.
How to Register for the RBT Exam?
You will register for the RBT exam by creating a free account on the BACB website and submitting your qualifying materials for the RBT credential. This will include proof of completing your 40 hours of RBT training, passing your initial competency assessment with a BCBA or BCaBA, and uploading a diploma or high school transcript. You'll also have to provide a person who will serve as a supervisor or coordinator for validating other parts of the RBT process.
Once all those conditions have been satisfied, you will receive an email that gives you the details for scheduling and taking the exam itself through Pearson VUE. The exam fee is $45.
Where Do I Take the RBT Exam?
You have two options for taking the RBT exam, both of them administered by Pearson VUE, a large national testing company:
In person at any Pearson testing center
Online through a proctored remote exam
Pearson has testing centers in major cities around the country. The online option is available to anyone who has a compatible computer and a webcam available. It can be completed anywhere, but you will be observed throughout the test and no study materials, other people, or electronic devices are permitted in the room where you take it.
A Good Registered Behavior Technician Study Guide Will Cover the RBT Task List Front to Back
All of the registered behavior technician exam questions are based on the official BACB RBT task list. BACB recommends reviewing that task list prior to taking the test, so your study guide should cover each of these six critical areas:
Measurement – 12 questions – ABA is all about observable behaviors. So you need to learn the yardsticks used for measuring progression; this class category describes measurement and recording techniques you will use on the job.
Assessment – 6 questions – Although most diagnostic and assessment processes in behavioral therapy will fall to BCBAs, RBTs assist in these tasks and you will be taught how to help with developmental and social evaluations of clients.
Skill Acquisition – 24 questions – As the largest category on the test, this includes practical instruction in the basic behavioral training procedures, including everything from discrimination trying to stimulus control.
Behavior Reduction -12 questions – Removing problem behaviors is a delicate business and that's the focus of this area, which includes differential reinforcement and extinction procedural training.
Documentation and Reporting – 10 questions – Because you are always working under supervision as an RBT, it's essential to communicate and document your work. You'll have to demonstrate you understand how to seek direction and report progress to your supervisor and comply with legal and regulatory data collection requirements.
Professional Conduct and Scope of Practice -11 questions – Ethics questions generally focus on maintaining patient privacy and professional boundaries. You need to show how to deliver care competently but within your skillset.
Although some of the knowledge areas on the RBT exam are emphasized more than others, you'll want to study all of them thoroughly to give yourself the best chances of passing.
The RBT Task List is your master reference for what you need to know for RBT certification, but you can find many published study guides, both on paper and online, that will cover the topics in more detail.
How Many Questions are on the RBT Exam?
There are 85 multiple choice questions on the RBT exam. Only 75 of the questions will actually count for your score, with the other 10 serving as pilot questions that are under consideration for future versions of the exam. You won't know which questions are scored and which are not, so it's important to do your best on every single one. Each question has four possible responses, only one of which will be correct.
How Many Questions Can You Miss on the RBT Exam?
BACB does not reveal the number or percentage of questions that are answered correctly as you progress through the RBT exam. They use a scaled scoring system based on statistical analysis of past tests to evaluate examination difficulty, and each individual is scored based on their particular exam. That means there is no set number of questions that you have to get correct from test to test.
Stacking The Deck To Pass The RBT Exam With a Registered Behavior Technician Practice Test
Registered behavior technician exam prep isn't complete without taking a practice test… or several!
BACB does not specifically endorse any of the many third-party practice tests available for the RBT exam. The test is entirely based on the RBT Task List, however, and any exam creator that follows that pattern can give you exactly the kind of preparation you need for taking the real thing.
There are both free and paid practice tests available out there, both on paper and in electronic format online.
Online practice tests are closer to what you will experience with the actual exam, but you can get ready for the real thing using either kind.
The Registered Behavior Technician Handbook, which you can download from BACB, also includes a list of practice questions. There are only a handful, but they do come directly from the source of the test, so it's a valuable addition to your exam prep toolbox.
Is the RBT Exam Hard?
The RBT exam is hard if you don't study for it! But if you pay attention during your required 40-hour training course, and if you have picked a qualifying program that covers all the right categories and skills, you should have no problem at all passing the RBT exam. Taking a practice test just offers some additional confidence that you will ace the real thing.
Is the Registered Behavior Technician Competency Assessment part of the Registered Behavior Technician Test?
No, the RBT competency assessment is not part of the RBT exam. Instead, the competency assessment happens in-person, where you are evaluated by a qualified BACB supervisor. Although the competency assessment happens after you complete your required training, it must be done before you file your application and take the exam.
What is the RBT Competency Assessment Like?
The RBT competency assessment is a brief, in-person evaluation conducted by a qualified BCBA or BCaBA. The assessment can be completed in one or more sessions, with either an actual behavioral therapy client or a person role-playing as a client. There are 20 tasks you will have to demonstrate in the areas of measurement, assessment, skill acquisition and behavior reduction, and professionalism and requirements.
Preparing For Exam Day and Acing The Registered Behavior Technician Test on the First Try
Just having the knowledge in your head for the exam isn't enough. You should also be comfortable and ready to go through all the processes around taking the exam.
Here is another place where the RBT Handbook comes in handy. It covers expectations and rules surrounding the test in-depth, including:
Bringing two valid forms of identification with you to the testing center
Ensuring your PC is compatible with the Pearson test system if you are taking the test at home
Leaving all electronic devices and notes behind when you come to the test, or outside the room if you are taking it at home
Not allowing food or drink during the test
Pearson VUE also allows you to run an online system check before you take the exam at home to ensure your system will work with theirs. It offers an online tutorial and a test demo to get you familiar with the format. Accommodations can be made for students with vision or hearing difficulties—just check ahead of time!
Naturally, showing up at least 30 minutes early for the exam is always a good idea. You'll need to go through security measures to establish your identity so don't be surprised if check-in takes a little extra time. Proctors will monitor you throughout the test.
What Happens if You Fail the RBT Exam on the First Try?
It's never fun to talk about what happens if you don't quite get a passing score on the first pass at the RBT exam, but don't worry! It's not the end of the world.
You can make a total of 8 attempts at passing the exam in the 12 months after your first try. Within 48 hours of your failed test, you'll find an exam retake application available online in your BACB account. You'll have to wait at least 7 days after the failed attempt, and retakes will cost the full $45 for each one.
If you're serious about being a competitive candidate when applying to registered behavior technician jobs, you should be serious about the way you prepare for the RBT exam too!