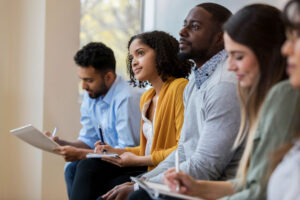 Registered behavior technicians are an important part of any behavioral therapy team. In fact, the RBT designation is one of only four certification levels offered by the Behavior Analyst Certification Board (BACB).
RBTs are only eligible to become registered in the first place because they meet the high standards for earning the credential set by the BACB. Those standards include meeting basic education and age requirements and submitting to a background check, before passing a competency assessment. But most importantly, becoming an RBT involves developing those competencies by completing 40-hours of qualified training in behavioral therapy as outlined by the BACB.
Getting your registered behavior technician 40-hour training is probably the biggest consideration and the most intensive part of becoming an RBT.
Although it's only forty hours of work, it's still a lot to take in. And you have a lot of different options for where to find registered behavior technician courses, from entirely online programs to community colleges to employer-based training.
<!- mfunc feat_school ->
Featured Programs:
Sponsored School(s)
<!- /mfunc feat_school ->
Understanding the Basics of Registered Behavior Technician Training Classes
The basic steps to becoming an RBT are always the same, but different training programs will handle registered behavior technician classes differently, even though they cover the same general subjects. You might find one program that follows the BACB outline exactly, while other providers might group different kinds of skill training into modules they think are complementary. In-person programs will cover topics differently from online programs, and some classes will build in extras, like exam preparation, even if they aren't required by BACB.
The basics of your courses will all have the same goal, however: to teach you the kind of skills and competencies you will need to pass the RBT examination and perform basic behavioral training under the guidance of a Board Certified Behavior Analyst (BCBA).
That means most of your coursework is going to fall into the category of skills acquisition. That category covers the bread and butter of behavioral training, with essential tasks like building token economies, using shaping procedures, and teaching chaining and discrete-trial training.
You will also get exposure to other critical parts of behavioral training. Areas like ethics and patient privacy, documentation and observation will be part of the curriculum. Even soft skills like how to conduct yourself around patients and their families will all be covered.
What is RBT Training?
RBT training is a mandatory set of classes that cover all of the skills outlined on the BACB RBT Task List. That list comprises six different areas of practice and thirty-seven specific job functions that every RBT has to know how to do. The practice areas covered in the training are:
Measurement
Assessment
Skill Acquisition
Behavior Reduction
Documentation and Reporting
Professional Conduct and Scope of Practice
How long does a Registered Behavior Technician 40-hour training course take to complete?
That's not a trick question – those 40-hours are typically spread out over several weeks. Most programs can fit a 40-hour RBT training program into about 8 weeks of class. If you are following an on-demand, online RBT training course, however, you can complete your courses much faster. All RBT courses that meet the requirements for certification will require that you take at least 5 days to get through the training, though, and no more than 180 days, even if you are in a self-paced program.
Find The Right Registered Behavior Technician School For Your Training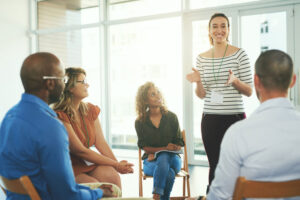 A registered behavior technician program can even be sponsored by your employer. Many agencies that employ large numbers of RBTs find it easier and more efficient to conduct the required registered behavior technician courses in-house.
You can also find registered behavior technician classes offered through non-profit organizations that benefit from behavioral therapy. For example, the Autism Partnership Foundation offers an online training class that can help almost anyone get their required 40 hours, even if you're not specifically involved with the foundation or working with ASD patients.
Most of your choice will come down to looking for the program that matches your budget, your interests, and your style of learning. Online courses aren't right for everyone, for example, so you might restrict yourself to looking at in-person classes. On the other hand, in-person classes may not fit for someone with a busy schedule or limited transportation options, so online classes may hit the spot.
How much is RBT training?
Considering the skills that you get, 40 hours of RBT training is remarkably affordable! Many online courses range between $30 and $70. But some non-profit organizations even offer registered behavior technician training online completely free. Even if you attend a traditional, in-person set of courses, many employers who require RBT certification will pay the costs of training, making it free for you. If you have to pay yourself, those courses can range between $100 and $500 dollars, however.
As a profession that doesn't require you to spend a lot of time and money earning a degree, the cost of the training course is a very modest investment, especially considering the generous salaries RBTs earn.
Jumpstarting Your RBT Career With Registered Behavior Technician Training Online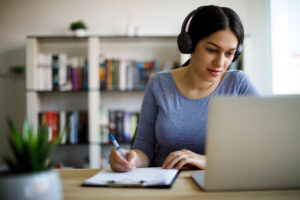 Online registered behavior technician training is an option that people are increasingly choosing for its convenience.
It's hard to beat sitting in the comfort of your own home, or even hanging out at the park with your mobile device, getting in those critical 40 hours to qualify as an RBT.
Most online registered behavior technician training programs are asynchronous and self-paced, meaning that you can decide when and how long to work on them. Typically, they include features such as:
Interactive video lectures with exercises and quizzes
Practice activities and demonstrations
Flashcard and memory-building exercises
Competency quizzes to test your retention
Practice tests for the full-fledged RBT exam
Since you don't have to commute to a classroom, you save time with online training. And because the provider doesn't have to rent a classroom, you can save money, too. It's cheaper for them to offer online courses than traditional types of classes.
But the fact that it's affordable doesn't mean you can coast through it. You have to be self-motivated and capable of committing to completing your work. Some online classes do have instructors and allow you to interact with your fellow students. That offers you some feedback and accountability if you need it.
How to Use Your Registered Behavior Technicians Courses To Ace Your RBT Exam
Your registered behavior technician classes won't be graded, even if your school uses quizzes and tests to help you absorb the material. The BACB doesn't care about your academic performance when it comes to issuing an RBT certification. What they want to see is if you can pass the RBT exam.
A good registered behavior technician school is definitely going to teach to the test when it comes to RBT coursework. The point of your registered behavior technician 40-hour training is to give you the knowledge and skills needed to pass the exam. So it's a good idea to take a look at the most current RBT Task List so you can see exactly how the material you are studying applies to each of those tasks.
Forty hours may not seem like a lot, but it's long enough that you are probably going to forget a little bit of what you learned at the start before you get to the end. A comprehensive note-taking and review strategy is a good idea before you actually sit down for the RBT exam.
The training will also influence whether or not you pass your competency assessment, a practical evaluation conducted by a BCBA observing you as you work with an actual client. You'll need to demonstrate the skills you learned in class in the real-world, so you had better stay awake for those parts of the course!
Registered behavior technician training online or offline gives you a lot of information to take in, but it can also be fun and informative. Most importantly, it gives you the kind of information and skills you need to make a real difference in the lives of your patients.